Evolutionary Life
Voices of an Emerging Movement for Conscious Evolution
December 2006
---
To subscribe
, send an email "subscribe to EL" to <
mbdowd@bigplanet.com
>. It's free. Invite your friends to subscribe.
---
Evolutionary Life is an e-magazine for those of us inspired by sacred, meaningful understandings of the evolutionary story of the universe. This story calls many of us to seek a more conscious role in evolution. What should we do with this understanding? How do we sustain our insight? How do we bring the evolutionary worldview into our daily lives and the world? We can use this e-magazine to share news, insights, activities, and resources. It can become an evolutionary space where we gather to inspire, inform, and delight each other, and thereby become more aware of ourselves as the healing, transformational movement we are. (For more, read here...) -- Tom Atlee
---
Contents

NEWS
Conscious Evolution News
Evolutionary Topics in the Mainstream News
(with a special editorial on the science/religion debate)
News from Our Favorite Evolutionary Evangelists
FEATURE ARTICLES
Barbara Marx Hubbard's story of discovering Conscious Evolution
"The Dark Side of Immortality & the Gifts of Death" by Michael Dowd
(with responses from David Sunfellow and Tom Atlee)
"Evolution, Process and Conversation" by Peggy Holman
"Evolution of the Scientific Method" by Kevin Kelly
POETRY
3 poems
RESOURCES
Awesome Evolutionary/Cosmic Images
Evolutionary Games
New Book and Film Announcements
Book Reviews
OPPORTUNITIES TO PARTICIPATE
An Emerging Evolutionary Spirituality Project: Evolutionary Revivals!
Help us revise "The Pluto Parable"
Michael Dowd Seeks Universal Transformative Practices, Exercises, and Meditations
Reader Participation Questions
EVOLUTIONARY EVENTS CALENDAR
TIDBITS
Evolutionary Quotes
An Amazing Cosmic / Evolutionary Factoid...
A Touch of Humor
Correction

---
NEWS • NEWS • NEWS • NEWS • NEWS • NEWS
---

CONSCIOUS EVOLUTION NEWS
International Artists Herald New Evolutionary Arts Movement
California-based artists Dana Lynne Andersen and Annie Harrison have joined forces with UK-based sculptor Ginger Gilmour to launch a new artistic movement. Andersen advocates 'Art on purpose', referring to work that is deliberate in its intention to uplift humanity. Andersen founded Awakening Arts Network, a global resource nexus connecting hundreds of artists throughout the world who are engaged in creating art that is 'evolutionary' and 'transformative'. Find out more at <http://www.awakeningarts.com/news/zeitgeist.html>
The First International Conference on Evolution of Religion
The "International Conference on Evolution of Religion" is shaping up to be a truly landmark event (over 50 leading science and religion authors/academics – a veritable "Who's Who" of significant contributors in the field) being held in a stunningly beautiful, tropical, family vacation spot the first week of January, 2007. Michael Dowd is scheduled to be one of the evening speakers. He says, "As the only keynote presenter without a PhD, I'm way out of my league scholastically. Fortunately (for me!) they want an evolutionary evangelist on Sunday evening, not another world-class scholar." If the thought of "a relaxing and energizing week swimming and hiking in Hawaii, conversing with some of the world's most inspiring science and religion teachers, and learning how religion is rapidly evolving in ways lifegiving for our planet" sounds attractive to you, Michael urges us all to find a way to be at this conference. "I'm quite sure," he says, "that 10 years from now you will have long forgotten whatever sacrifices you made to attend but will not have forgotten the event itself!" For more details see the Calendar at the end of this e-magazine and the downloadable workshop descriptions (a Word doc).
Global Mindshift - Arising out of the Foundation for Global Community, this remarkable site is an engaging and powerful introduction to the evolutionary worldview. Check out the remarkable sequence of mini-talks by cosmologist Brian Swimme and the neat, very short and to the point Wombat lecture, one of several very engaging short videos in their "memebase" -- and then consider joining "a conversation that matters" discussing one of these memebase materials. Each part of this site attempts to cut directly to the heart of the matter.
Evolutionary Salon on Philanthropy Report Released - What happens when you bring three dozen philanthropists, scientists, and social thinkers together for an open week? What questions do they ask together? What insights and new directions do they come up with? It was an amazing time, and here's the full report.
Andrew Cohen's new "Birth of Evolutionary Enlightenment" webpage describes his and his group's work on conscious collective evolution. It includes a history of evolutionary spirituality, first-hand student experiences, videos of Cohen and others, a dialogue with Ken Wilber, and interviews and articles by and about a number of luminaries in the field.
Ken Wilber's Integral Institute launched its new monthly newsletter Holons in August, presenting the world through an Integral lens. It features hot news, cool links, culture reviews, staff recommendations, and the latest information from the Integral Institute and the Integral frontier.
Barbara Marx Hubbard is working on a series of videos, Humanity Ascending, communicating her life's work and vision. The first one, Our Story -- a visionary overview of evolution and our current place in it -- has gotten great reviews from transformational leaders and is proving very popular around the world. You can see a trailer, buy it, or arrange a showing at its website. The next videos in the series are planned to be Evolutionary Spirituality, Emergence of the Universal Human, Synergistic Democracy, and Visions of Our Future (this last one will envision the harmonious fulfillment of our spiritual, social and scientific/technological capacities). Barbara is also catalyzing efforts to articulate and advance the relationships between her Conscious Evolution work and the work of Maharishi Mahesh Yogi, Carl Jung, Holodynamics, Andrew Cohen, New Thought teachers Rev. Jim Lockard and Mary Morrissey, and others.
An Evolutionary Summer Camp! -- Aubree Smith, Director of Religious Education at the Unitarian Universalist Church of Fresno, CA, writes: "I was so inspired by your work, Connie and Michael, that I wrote a week long children's day camp curriculum to teach the concepts you're promoting. I used some of your rituals and we made the cosmic beads. I added my own songs and used some children's picture books to help tell the story. It was wonderful! I called the camp, 'Out of the Stars: Celebrating our Evolutionary Roots!' And because of the provocative title, we caught the attention of Newsweek magazine. The July 17, 2006, edition of Newsweek featured a photo of the camp. There is also a brief description of the camp in the article on page nine. The photo shows Reverend Bryan Jessup anointing the head camp counselor Katie Borofka when we did the 'learning your cosmic age' water ritual. In the background of the photo is about half of the camp's kids." For more info, contact Aubree Smith <drefresno(at)sbcglobal.net>
---
EVOLUTIONARY TOPICS IN THE MAINSTREAM NEWS
EDITORIAL: HOT DEVELOPMENT: Two remarkable mainstream articles (see below) describe a powerful backlash of certain scientists against fundamentalist religion -- and even against tolerant liberal religions. This movement, led by Richard Dawkins and Sam Harris, vilifies all religion as truth-obscuring superstition, and holds scientific atheism as the only valid source of truth. From a social evolutionary perspective, this emergent scientific fundamentalism is a natural response to the recent fundamentalist Christian crusade for "Intelligent Design" and the diverse, disturbing rise of fundamentalist religious violence around the world which, in turn, are responses of traditional cultures to the encroachments of secular globalization.
From an evolutionary spirituality perspective, I read these articles with a poignant combination of sadness and eager anticipation. As this "war of ideas" unfolds, more and more non-fundamentalist people will get frustrated with the sense they are being presented with false choices -- between science and spirit, between reason and faith, between data and meaning. The fact is, we need both. We want both.
As Nobel chemist Ilya Prigogine wrote in an open letter to future generations in 2000, "It is up to future generations to construct a new coherence that will incorporate both human values and science."
And that's where the Great Story comes in. Those of us who have discovered evolutionary spirituality find that the Great Story of Evolution provides an embracive perspective that welcomes both reason and faith into greater coherence, greater combined truth than either could ever hope to achieve separately. We already know this, and watching the bitterness of this battle is painful when we know there is a coherent solution available even as the argument rages on.
We also know that evolution takes time, and often needs to build up tensions before a breakthrough. Furthermore, we know that we have a lot to do with how all this unfolds; we are participants, not spectators. We are the evolution we've been waiting for.
For his part, Michael Dowd is writing a book -- Thank God for Evolution! How Science and Religion Are Spurring Each Other to Greatness (due out next fall) -- which will share the "evolutionary spirituality" synthesis and show how both sides can win bigger together in the service to Life. The rest of us will find our own ways to bring this new possibility to the attention of neighbors, colleagues, and the public at large.
It looks like the times are ripening rapidly towards breakthrough.
-- Tom Atlee
The two articles about the debate described above are available online:
Wired magazine, November issue
The New Atheism: No Heaven. No Hell. Just Science. Inside the Crusade against Religion
and
New York Times, November 21, 2006
A Free-for-All on Science and Religion
see also the NYT book review on this subject
Other mainstream articles of interest include
---
NEWS FROM OUR FAVORITE EVOLUTIONARY EVANGELISTS
Connie Barlow and Michael Dowd tell of their travels, their presentations, their work on Michael's new book Thank God for Evolution!, and exciting new additions to their website, including mp3 versions of six of their sermons now available. (And, as an interesting aside, we tell you about how they were invoked by a leading planetary scientist who didn't even know they existed!). See their full report here.
---
FEATURE ARTICLES • FEATURE ARTICLES • FEATURE ARTICLES
---

Featured Story
The Unfolding Story of My Discovery of Conscious Evolution and Evolutionary Spirituality
by Barbara Marx Hubbard
Barbara is one of the great elders and visionary pioneers in the fields of conscious evolution and future studies. Several months ago I asked her to "write up something about your development of your ideas / vision around conscious evolution, and how it has evolved." She kindly wrote this fascinating account of how this vision emerged in her life before most of us had any idea of its scope and power.

The Dark Side of Immortality & the Gifts of Death
by Michael Dowd
with responses from David Sunfellow and Tom Atlee

Evolutionary Process Arts Column
Evolution, Process, and Conversation: A Foundation for Conscious Evolutionary Agentry
by Peggy Holman

Evolution of the Scientific Method
by Kevin Kelly
---
POETRY • POETRY • POETRY • POETRY • POETRY • POETRY
---


Three poems about who we are and our roots in the vast Evolving Whole...
"Lost and Found" by Wistawa Szymborska

"My Soul" by Peter Mayer

"All My Life" by Joyce Keller

---
RESOURCES • RESOURCES • RESOURCES • RESOURCES • RESOURCES
---
AWESOME EVOLUTIONARY / COSMIC IMAGES
UNIVERSE LIKE A MOUSE-BRAIN -- SURPRISE! In these fascinating photos, the big structure of the universe as a whole looks startlingly like ... the neural net of a mouse-brain!
GREAT SATURN PICTURES -- CICLOPS/Space Science Institute's website shows Cassini probe's phenomenal close-up pictures of Saturn, its moons, its rings... and, off in the far distance, the faint speck of earth and its moon.... Take at least a few minutes to wander through this site's awesome images, and let your awareness expand...
TOMORROW'S MEGACONTINENT -- Pangea Ultima -- expected to combine most of today's landmasses into one, 250 million years in the future. You'll find more of its story in the "More Info" link in the upper left corner of the Pangea Ultima page.
INSPIRING COSMIC ART by Dana Lynne Anderson is now displayed on the web. Among other works, Dana illustrated the beautiful children's books The Universe Tells Our Evolution Story by Jennifer Morgan -- the last one of which is reviewed in this issue of Evolutionary Life.
COSMIC STAR-STUFF PHOTOS -- the lushly illustrated first chapter ("Awesome Stuff #1: We're Made of Star Stuff!") of another fabulous children's book -- Charlene Brotman's 6-chapter Kids' Book of Awesome Stuff is available free online (click the link for a PDF). Highly recommended!
STRETCH TIME -- A wild new 2-minute video to expand your sense of time
---
EVOLUTIONARY GAMES
So You Think You Can Do Better?
Computer Games Get Serious and let you tackle Real World Social and Political Issues
The video game of evolution, itself: SPORE
This game is not yet released but is already famous. Experience a preview here and read enthusiastic reviews by Shane Dowd and Lion Kimbro at SPORE: THE REVOLUTIONARY EVOLUTIONARY GAME
Games from the late Dana Meadows' Sustainability Institute
In Fish Banks, Ltd. teams manage a fishing company, trying to maximize their assets in a world with renewable natural resources and economic competition. The Systems Thinking Playbook and companion DVD provides 30 short gaming exercises promoting skills related to Mental Models, Team Learning, Systems Thinking, Shared Vision and Personal Mastery.
---
NEW BOOK AND FILM ANNOUNCEMENTS
Evening Thoughts: Reflecting on Earth as Sacred Community, by Thomas Berry. While urgently articulating the full dimensions of the ecological crisis in this new book, Great Story elder and cultural historian Berry frames it as a crisis of spiritual vision. Applying his formidable erudition in cultural history, science, and comparative religions, he forges a compelling narrative of creation and communion that reconciles modern evolutionary thinking and traditional religious insights. Berry inspires us to reclaim our role as the consciousness of the universe and thereby begin to create a true partnership with the Earth community.
The Awakening Universe - directed by Neal Rogin; written by Neal Rogin and Drew Dellinger.
Based on the book The Universe Story by Thomas Berry and cosmologist Brian Swimme, this inspiring new 15 minute film takes us on a journey from the birth of the Universe, through the arising of galaxies, the formation of the Earth, the emergence of life and finally to the development of human consciousness. The DVD includes an additional 37 minute interview with Brian Swimme. $25 USD (includes shipping and handling). Contact: <neal(at)awakeninguniverse.com>
The Great Story - produced by Nancy Stetson and Penny Morrell
The Great Story is a 50 minute documentary film for educational venues and public broadcast portraying the life and work of Thomas Berry. The film displays the beauty of the natural world as Berry tells the story of the universe and highlights the critical environmental crisis we are currently facing. Order from Bullfrog Films, Inc. PO Box 149 Oley, PA 19547. 1-800-543-FROG (3764)
---
BOOK REVIEWS
Faith, Reason, God and Other Imponderables
The editorial in the Mainstream News section of this e-magazine describes the stormy argument over whether faith in God can coexist with faith in the scientific method. In this New York Times piece, Cornelia Dean reviews seven books across the landscape of opinion on this -- a landscape in which, Michael Dowd notes, he and other spiritual evolutionists have developed a very attractive and little known alternative into which they welcome people to come together. We look forward to Dean and others reviewing Michael's forthcoming book Thank God for Evolution!
Mammals Who Morph: The Universe Tells Our Evolution Story
by Jennifer Morgan, with illustrations by Dana Lynne Andersen
Amazon <http://tinyurl.com/y6qrby>
At last, the third and final volume of this award-winning Born with a Bang book series -- all remarkable, large-format, gorgeously illustrated books -- is available in most bookstores and online book vendors. As with the previous two volumes, Mammals Who Morph is narrated by the Universe itself, who picks up the story where volume 2 (From Lava to Life) left off: the death of the dinosaurs. Here we learn the glorious evolution of our mammalian kin and our own hominid ancestors. The story begins with the tiny mammals who survived the mass extinction that wiped out the dinosaurs. We watch them morph into horses, whales, monkeys, and a mammal with an imagination: that's us! It's a story of chaos, creativity, and heroes -- the greatest adventure on Earth -- and a personal story, too, about our bodies, our minds, and our spirits. Jane Goodall, Brian Swimme, Montessori teachers and many more folks praise this book and this series. Target age range is 7-11, but younger kids will be fascinated to grow with this book, and we adults just love them! To learn more about programs offered by the author, go to <http://www.UniverseStories.com>
---
OPPORTUNITIES TO PARTICIPATE • OPPORTUNITIES TO PARTICIPATE
---

EVOLUTIONARY REVIVALS! - An Emerging Evolutionary Spirituality Project

Connie and Michael have stumbled on a hot vision to take the experience of evolutionary spirituality to a whole new level -- as energizing as evangelical mega-church services. They invite us to participate in realizing this vision. Read about it here!
---
HELP US REVISE "THE PLUTO PARABLE"
The Great Story is "the story of the changing story." That means we must be open to changing the details of our ways of celebrating the story to incorporate discoveries and shifts in the underlying sciences. In 2003, Connie Barlow wrote "The Pluto Parable" to playfully survey the debate about whether Pluto should be demoted from its status as a true planet. The solution she proposed in the parable (suggested by Leslie Pilder) was that Pluto be considered "an adopted planet", because the Sun held Pluto in its "loving gravitational embrace" no less than any other planet. The parable was thus a great way to introduce kids to the concept of adoption. But in August 2006, after a half dozen years of intense debate, the world's astronomers collectively decided to demote Pluto from the status of planet to that of a "dwarf planet", while adding two other solar system bodies to this category of dwarf planet. So, help!!! Does anyone have a brilliant idea of how to adjust the parable, yet keep intact the "adoption" resolution? Begin by reading the Pluto parable and scripts that we now have. Then Google "Pluto dwarf planet" to learn the science and logic of the shift to dwarf planet. If you come up with a good idea, please email our assistant, Mia Van Meter, and she will aggregate your responses and then pass them on to Connie. Contact Mia at <mia_tgs(at)yahoo.com>
---
WANTED
Michael Dowd seeks Universal Transformative Practices, Exercises, and Meditations
In his forthcoming book, Thank God for Evolution! How Science and Religion Are Spurring Each Other to Greatness, Michael Dowd plans to include a section on tools that can assist anyone, anywhere, no matter what their religious or philosophical orientation, in growing in:
humility and trust
authenticity and transparency/honesty
compassion and responsibility
gratitude, generosity, and service to the whole
If you know of any practices, exercises, or meditations which may be useful in supporting people in growing in one or more of these areas, please email Michael ASAP -- <Michael@TheGreatStory.org>
*** When emailing about this, please put "Evo-Integrity Practices" in the subject line. ***
---
READER PARTICIPATION QUESTIONS
Last issue we asked
What do we need to know, realize, feel, be and/or do
to turn crises -- personal and collective --
especially societal and environmental crises --
into evolutionary opportunities?
Glory Ressler responded:
This touched me deeply - given all that is currently in the news.
We need to KNOW that neither media news nor facts define the greater 'us'. The whole story is greater than the sum of these parts.
We need to REALIZE that nature leans towards homeostasis so, for every crisis an opportunity is also present. We also need to REALIZE that we are all a part of the solution and are one.
We need to FEEL as fully as we can... with faith and acceptance; using our emotions (energy-in-motion) and sense experiences as a source of energy, growth and inspiration.
We need to BE that which calls us and haunts our dreams and hopes -- as fully as we are able and willing in each moment.
We need to DO whatever we can -- taking heart and courage from the fact that we are neither alone nor insignificant.
Thank you, Glory!
This issue we ask a related question suggested by Barbara Marx Hubbard:
What characteristics do you see in yourself and others
as evolutionary beings?
Send your thoughts to Evolutionary Life editor Tom Atlee at <cii@igc.org> and we'll share them in a future issue.
---
EVOLUTIONARY EVENTS CALENDAR
VARIOUS TIMES - GREAT STORY EVENTS with Michael Dowd and Connie Barlow happen every week (and sometimes every day) at various locations in the U.S.
December 15-17, 2006 - EMERGENCE: NATURE'S MODE OF CREATIVITY with biologist Ursula Goodenough, Esalen, Big Sur, CA - This workshop will explore the concept of emergence. Emergent properties -- "something else from nothing but" -- arise from relations between materials, molecules, cells, and organisms, and they represent the key substrates of cosmic and biological evolution. The program will consider as well such human-specific emergent properties as symbolic language, the narrative self, and imagination. Emphasis will be given both to understanding the dynamics of emergence from a scientific perspective, where an openness to this perspective is far more important than prior training, and to considering its existential, spiritual, and ecological implications. Reservations: <http://tinyurl.com/y4reec>

January 3-9, 2007 - INTERNATIONAL CONFERENCE ON EVOLUTION OF RELIGION, Makaha Resort near Waianae, Oahu, HAWAII - See Michael Dowd's excited endorsement of this conference in the Conscious Evolution News section, above. For information on the presenters (scroll down the speakers page and read the remarkable who's who of who's coming!), the week's agenda, registration information, etc., see <http://www.evolutionofreligion.org/index.php>. For detailed workshop descriptions download <http://tinyurl.com/ygl4vv> (a Word doc).
January 10-15, 2007 - SCIENCE AND THE HUMAN SPIRIT: EXPLORING OUR MAPS OF REALITY (an Orion Adventure Course) - Cheryl Genet with Michael Dowd and Barbara Marx Hubbard, Makaha Resort near Waianae, Oahu, HAWAII (immediately following the conference above).
January 19, 2007 - "HUMANITY ASCENDING" movie screening at AGAPE International Spiritual Center, Culver City, CA, followed by a discussion with Barbara Marx Hubbard and Dr. Michael Bernard Beckwith.
February 2-4, 2007 - EVOLUTIONARY WOMEN, EVOLUTIONARY MEN, EVOLUTIONARY WORLD with Barbara Marx Hubbard and Sidney Lanier, Esalen, Big Sur, CA - Moving beyond traditional roles, evolutionary women and men are learning to join whole being with whole being, balancing masculine and feminine as coequal co-creators. Reservations: <http://tinyurl.com/y4reec>
VARIOUS TIMES - ANDREW COHEN'S EVOLUTIONARY ENLIGHTENMENT 5-week courses - see descriptions, locations and schedules at <http://www.eecourse.org/>
---
TIDBITS • TIDBITS • TIDBITS • TIDBITS • TIDBITS • TIDBITS
---
EVOLUTIONARY QUOTES
"Is no one inspired by our present picture of the universe? Our poets do not write about it; our artists do not try to portray this remarkable thing. The value of science remains unsung by singers: you are reduced to hearing not a song or poem, but an evening lecture about it. This is not yet a scientific age." — Richard Feynman
"We are rag dolls made out of many ages and skins, changelings who have slept in wood nests, and hissed in the uncouth guise of waddling amphibians. We have played such roles for infinitely longer ages than we have been human. Our identity is a dream. We are process, not reality." — Loren Eiseley, "Starthrower" in Unexpected Universe, 1969
"Only after we had absorbed Darwin and recalculated the age of the universe, after the vision of static forms of life had been replaced by a vision of fluid processes flexing across vast tracts of time, only then could we dare to guess the immensity of the symphony we are part of." — Christopher Bache, 2003
---
AN AMAZING COSMIC / EVOLUTIONARY FACTOID
"LIKE A DIAMOND IN THE SKY . . . TRUE!"
(if your browser misses, scroll to item 12: Twinkle Twinkle)
In 1804, a British woman wrote the song we all learned as kids, and that we are still teaching our kids: "Twinkle twinkle little star". You know how it goes. And you know that it says, "like a diamond in the sky." Well, some stars really ARE diamonds in the sky. Two years ago, scientists detected empirical proof that the carbon remaining in the core of spent Red Giant stars now cooling into white dwarfs takes the form of a giant carbon crystal of diamond. Learn more on this fascinating science at these two sites:
<http://starryskies.com/articles/2004/02/diamond.html>
<http://cfa-www.harvard.edu/press/pr0407.html>
---
A TOUCH OF HUMOR
1. When a Self-Conscious Universe starts puzzling, wondering, obsessing... a great evolutionary cartoon is born (below)
And we wonder why we occasionally struggle
with issues related to food, safety or sex....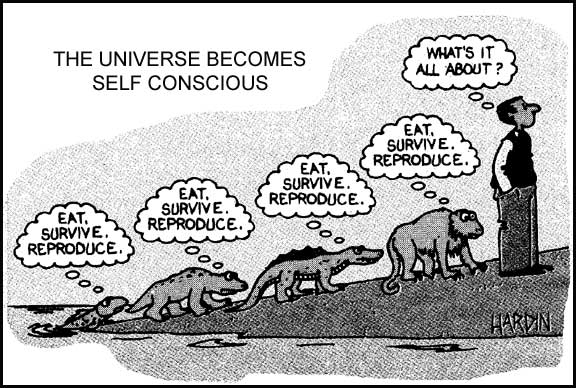 ...even when we're thinking profound thoughts
about why we're here....
2. Evolution at hyperspeed - click this link!
Watch a lemur morph into a monkey who then transforms into evolutionary biologist Stephen J. Gould.

3. A hilarious evolution-based advertisement, which apparently was shown only on British TV, inspired Michael Dowd to imagine a similar short film clip illustrating The Great Story and stimulating meaningful conversation about questions such as the following, in small groups all over the world (the questions can surely be improved; these are merely suggestions)...
When have you experienced "good things" coming via trusting the process and following your allurements (without knowing where it's all going)?
What does evolution mean for you personally?
What does evolution mean for us as a species?
What do you imagine evolution wanting for you?
What do you imagine evolution wanting from you?
---
Correction to the last issue...
In the last issue we wrote "The Graduate Institute has two accredited academic programs on Conscious Evolution, one centered on the work of systems philosopher Ervin Laszlo and the other on the approach of evolutionary enlightenment guru Andrew Cohen and integral philosopher Ken Wilber. The latter is a collaboration with What is Enlightenment? magazine. Both 2-year programs include social evolution while focusing on the dynamics and evolution of consciousness. They involve a wide variety of topics, sources, seminars, artistic presentations, web discussions, shared cohort activities, lectures, and discussions."
Reader Kate Parrot corrected us, saying: "I'm doing the graduate program in Conscious Evolution and it's awesome. There is only one program though. The teachings of Andrew Cohen are brought in to some extent, but the program is not based on Andrew's work. The work of Laszlo and other evolutionary thinkers are indeed featured as you say. The program is about the evolution of all aspects of human beings and human society over time -- technologically, morally, intellectually, spiritually, psychologically."
---
Send submissions of evolutionary news, quotes, websites, humor, and other references and materials to editor Tom Atlee <cii@igc.org>.
And please tell us what you really like about Evolutionary Life and how we could improve it.